Soft Leaf Buffalo grows well in South East Queensland & ticks the boxes for low maintenance and weed resistance.
What is
Soft Leaf Buffalo turf?
Soft Leaf Buffalo is the most frequently sold buffalo variety in the world. This is mainly due to it having all the qualities of a buffalo grass, but a low maintenance upside.
As the name suggests, this grass offers a soft leaf making it a great choice for a family-friendly backyard. It is a champion grass in the shade. Soft Leaf Buffalo grows slower, neater, and less invasively than other buffalo varieties. That means less work and more time enjoying your yard and lifestyle!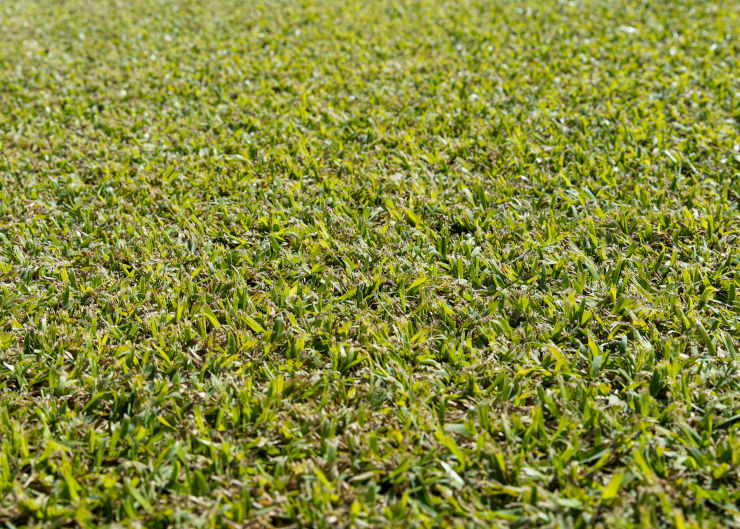 Is
Soft Leaf Buffalo

grass suitable for you?
If you're looking for a lovely year-round vibrant green colour in your yard, you'll be stoked with Soft Leaf Buffalo turf. It's an excellent choice if you suffer from allergies, live in a drought-prone area, have a shady space to turf, or simply love the prestigious look of broad leaf buffalo varieties.
This is a highly durable turf, making it ideal for young families where afternoons and weekends are all about running around outside. Its soft leaf makes it comfortable to run all over too. It grows slowly though, so be prepared to give it love and attention while it's new and establishing. If your new Soft Leaf Buffalo does get damaged, it will be quicker to replace a section rather than wait for it to repair itself.
One of the main advantages to choosing Soft Leaf Buffalo is it requires less maintenance than its competitors. It grows slower, more uniformly, less invasively and with less thatch than Sir Walter – that means less mowing!
If your yard gets more shade than sun during the day, Soft Leaf Buffalo turf might be for you. All grasses need sunlight to survive, but due to its broad leaf, Soft Leaf Buffalo can thrive with as little as 3 hours of sun a day. It also loves full sun.
Living in South-East Queensland you'll appreciate the drought tolerance of this variety. Soft Leaf Buffalo will need plenty of water to establish, but once its deep roots are down, this variety will be an efficient water user. It is best to water deeply in the mornings every 7-10 days in summer and less in winter. Shady areas will require less water than full sun areas.
This turf is an ideal variety for the busy family or homeowner with shady yard spaces who has better things to do than mow but appreciates a showcase lawn.
Soft Leaf Buffalo

Installation Process
Already picked up your buffalo grass and have it ready to go?
Note: To ensure your grass is installed at its healthiest state, we recommend installing your Soft Leaf Buffalo lawn immediately after delivery.
How do I take care of my
Soft Leaf Buffalo grass?
You've installed your new Soft Leaf Buffalo turf, so how do you continue to care for it while it establishes itself? Soft Leaf Buffalo will take longer than other varieties to establish, approximately 4-6 weeks, but this depends on the season. 
After you have installed your new lawn, you can see how your turf is taking by lifting up a corner of one of those turf pieces and checking how it's attaching to the soil. 
Note: it's important to keep off of the grass while it establishes. 
Ready to give Soft Leaf Buffalo a go?
We always put your needs first. We can deliver your new turf to your home or business or you can come and pick it up from our turf farm. Whichever you choose, you can rely on our friendly team for prompt service.
Soft Leaf Buffalo Pricing
| Price per sqm | $12.10 |
| --- | --- |
| Shade Tolerance | 5/5 |
| Drought Resistance | 3/5 |
| Weed Resistance | 4/5 |
| Durability | 4/5 |
| Maintenance Level | Low |