There are many different elements that go into keeping a healthy lawn all year long. It's not just your lawn care expertise that matter, though. The turf you select can make a big difference in your lawn's long-term health. 
The best turf type for your lawn will depend on the climate you live in as well as the kind of wear and tear it might experience. Selecting the correct turf variety will save you plenty of headaches, along with additional costs in the future. West Turf offers a wide range of the best turf varieties: Zoysia grass, Aussiblue, Soft Leaf Buffalo, Sir Walter, and Wintergreen couch grass.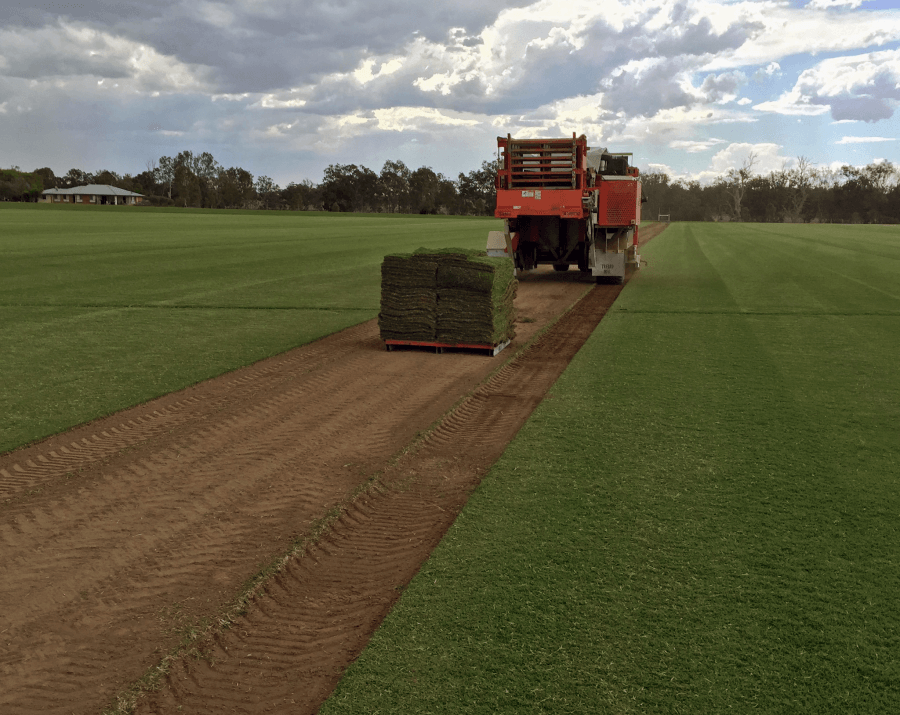 | | Aussiblue | Zoysia | Soft Leaf Buffalo | Sir Walter | Winter Green |
| --- | --- | --- | --- | --- | --- |
| | $8.80 | $12.10 | $12.10 | $12.10 | $5.50 |
| Shade Tolerance | | | | | |
| Drought Resistance | | | | | |
| Weed & Disease Resistance | | | | | |
| Durability | | | | | |
| Maintenance Level | Medium | Low | Low | Medium | Medium |
Delivery to Brisbane, Ipswich, Logan & Redland
Less than 50 sqm – $198
50-99 sqm – $165
100+ sqm – $132
Delivery to Pine Rivers, Sunshine Coast & Gold Coast Shires
West Turf's
Best Grass Type

For Your Lawn
Zoysia grass is one of the most commonly used premium turf varieties. How could you use it in your next landscaping project? What is Zoysia Turf? Zoysia grass has a fine to medium leaf with a dark green colour, a luxuriously soft feel and moderate shade tolerance. As a hybrid tropical turf, it brings together …
Aussiblue Turf is one of the softest turf varieties on the market, growing well in the sub-tropical climate of South East Queensland. What is Aussiblue Couch? Aussiblue Couch is popular across South East Queensland for its rich, dark colour, creating beautiful lawns for both homes and businesses. Aussiblue has a soft, lush feel with a …
Soft Leaf Buffalo
is the most frequently sold buffalo turf variety worldwide. This is chiefly due to its broad, dark emerald green leaf and hard-wearing nature as it performs just as well in full sun as it does in the shade. It even grows well in the South East Queensland climate and requires less mowing and watering than other grass varieties, ticking the box for needing very little maintenance. This soft leaf buffalo is also weed resistant, has an excellent winter colour, and high drought tolerance…
Developed right here in Australia, Sir Walter is a soft-textured, lush, emerald green turf and is both weed resistant and low allergenic.
Sir Walter
is the ideal grass for most lawn care duties due to its low maintenance and ability to thrive in most climates. It also has a high shade tolerance making it perfect for both shady areas and full sun. These fine qualities have led to this soft leaf buffalo grass to be one of the most popular grasses around the country…
Wintergreen Couch is a soft, bright green, medium to fine leaf blade turf that can prosper in warm weather. It is a great all-rounder and is a popular couch variety for garden lawns. It thrives in full sun but does not have a high shade tolerance. Wintergreen couch grass is also drought tolerant and bounces back quickly from constant wear and tear from high traffic areas, making it suitable for active families.
USED BY GOLF COURSES RIGHT AROUND SOUTH EAST QLD!
Our turf
is better

quality
Prime location on the Brisbane River, allowing for exceptional growing conditions
Three decades of experience and a lifetime of expertise
State-of-the-art equipment and facilities
Perfection and obsession with a quality product
OUR TURF STARTS AT ONLY $5.50 PER SQM!